`The `Crooked `Chimney (Chequers)

A popular pub in Cromer Hyde known as the Chequers but now called the Crooked Chimney. _ To view Gallery Click Here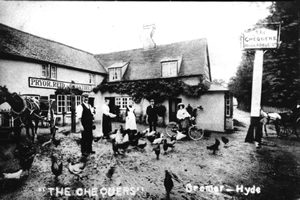 The building was formally Hornbeam Hall or Hornby and through the seventeenth and eighteenth centuries was owned by the Bassil family who farmed at Cromer Hyde. It is thought to have become a pub in 1756 whilst still being used as a farmhouse. Circa 1780 it was owned by the Searancke family of brewers(who had been brewing in Hertfordshire since 16th century) and become known as the 'Chequers' due to its reputation as a good gaming house. From 1815 it was taken over by the Hatfield Brewery. Before 1830 there was a draper's shop attached to the house and many of the old farm buildings remained. Circa 1860 Thomas Woodward was the publican (and also the local wheelwright). In 1882 Pryor Reed, an off-shoot of the Hatfield brewery, were the owners, Thomas Palmer was the publican.
In 1901 James Slater was the licensee.
In 1901 James Slater was the licensee. Regine Amelia Hiscock a widow was employed as a servant and lived there with her young daughter.In 1920 Hatfield Brewery closed down and sold ninety eight pubs to Benskins Watford brewery. One of the longest serving landlords, Earnest Chas Brown came to the pub in 1928 and retired in 1952 over 24 years.. The pub has changed a lot since the 1950's but the wisteria and distinctive chimney remain. The pub was frequently referred to as 'the pub with the crocked chimney' and the name crooked Chimney was formally adopted in 1968. This decision was during the longest serving landlady Dorothy McCormick she started in 1962 and retired 25 years later.It was a popular venue for the de Havilland pilots from Hatfield during the late 1030s through to the 1960s. (Geoffrey de Havilland junior and John Cunningham met up there after parachuting into fields nearby following baling out from a Moth Mino aircraft which refused to recover from a spinning test!) Photographs of many of the pilots adorned the walls of a large room to the left of the main entrance of the pub. I was told a story by a local resident who was a boy who had connections with the pub in the mid 1950's of a group of pilots drinking in the pub, when one of the accused fellow Pilot Dickie Blythe of being drunk. He jump into his Jag outside and drove to DeHavillands got into a fighter plane, took off and did a loop the loop over the crooked Chimney, flew back to base and drove to the pub to join his colleagues. The room became the first dining room when restaurant facilities were introduced.

A huge log fire had always been a feature of the lounge bar. Lou Smith whose father had been the publican at 'The Long Arm and Short Arm' became the publican here in 1953. He was an electrician by trade and was instrumental in getting electrical power in the mid 1950s and the old gas lamps were replaced by electric lighting. Later a former Tottenham player Jimmy McCormack and his wife Dorothy were the tenants. He was later killed in a car crash whilst holidaying in Spain but his wife had the licence transferred to her name.The pub became part of Mitchells & Butler and became a Vintage Inn. In the year 2007 it was refurbished. The Pub was featured in one episode of 'Inspector Morse' Series on Television.

.
CLARENCE BARTLETT
Clarence Bartlett was the Landlord of the Chequers (Crooked Chimney) in the 1891 census.
1891 Census RG12/1112/5/3/20 Chequers Inn, Cromer Hyde
Bartlett Clarence Head, married aged 42, Naturalist (bird) & Publican. London St Pancras
Bartlett Jane E., Wife, married aged 44, b. London St. Pancras
Bartlett Alice M, son aged 12, scholar, b.London Marylebone
Bartlett Daisy, daughter aged 9, scholar, b.London Marylebone
Bartlett Joseph, son aged 7, scholar, b.London Marylebone
Bartlett Richard, son aged 4. scholar, b.London Marylebone
Bartlett Mary E.. daughter aged2, b London Marylebone
Crane Agnes M. niece, single aged 19, b. London Highgate
Mann George, servant, single aged 17, b. Suffolk Kelsale
(children did not attend Lemsford School)


Son of Abraham Dee Bartlett, Superintendent of the London Zoological Gardens for nearly 50 years 1859-97. see http://www.taxidermy4cash.com/bartlett.html also Bartlett Society http://zoohistory.co.uk/html/index.php

Born: (Sep 1848 St. Pancras Vol 1/255)
Married; (March 1870 St. Pancras 1b 80) Jane Emma Goss (died aged 62 Sept 1908 Vol 3a/164,)
Died: 1st May 1903 aged 54 at Bury Farm, Meppersham (Jun 1903 Biggleswade Vol 3b/204) Daughter Ellen married husband George in Meppersham.

Children: Ada Mary 1871
Ellen J 1872
Alice M 1874
Kate 1876
Margaret 1877
Edgar 1879
Daisy 1882
Joseph 1884
Richard 1887
Mary E 1889 Parents Abraham Dee Bartlett & Lydia
Siblings
Mary Ann 1839
Clara 1841
Emma 1843
Edward 1845
Julia 1847
Ellen 1851
Census details
1841 10, Little Russell Street, Abraham Dee & Lydia Bartlett , naturalist. Mary Ann age 3 & Clara age 1
1851 16, Great College St, Westminster naturalist.
1861 Regents Park Zoo. Abraham Dee Bartlett, Superintendent Zoological Gardens. Clarence's mother not at home. Clara, Edward, Julia, Clarence and Ellen.
1871 2 Egbert Street, St Pancras. Clarence & Jane Emma Bartlett (age 24), naturalist daughter Ada age 7months all born St Pancras.
1881 Regents Park Zoo. Clarence & Emma Jane Bartlett, Assistant Superintendent children and 2 servants. His father, Abraham is head of the household but although still married his wife is not on census
1891 Chequers Cromer Hyde. Clarence & Emma Jane Bartlett, naturalist and a publican Alice, Edgar, Daisy 1882, Joseph 1884, Richard 1887 and Mary E 1889. Agnes M Crane, niece age 19, living with family and 1 servant Ada Mary, Kate and Maggie are living with grandfather Abraham at the Zoo.
1901 Regents Park Zoo - superintendent, with wife Jane, daughters Ellen, Maggie and son Joseph who is a worker in zoo. Percy Stevens age 27 a tailor and an employer, & Kate are there as visitors with Cecilia age 1
Information from Wendy via Ancestry
"Clarence was my 2 x Great grandfather and my Grandmother passed on the stories from the zoo. Her Mother was born in the zoo and so had first hand experience of the day to day running. I can't help very much as I do not know why Clarence Bartlett took his family to Cromer Hyde and ran a pub for a while before going back to be Superintendent and I have no pictures of him either. Grandmother had lots of the family at the zoo and lent them to a friend she worked with who never gave them back. We live and learn! I do have pictures of Abraham but that does not help you much.In a book I have by John Edwards it says: "When Bartlett died in office in 1897, Clarence was appointed to succeed him, despite being considered by one prominent Fellow to be 'of lower ability and character (than his father), a sycophant with his superiors and a bully with his inferiors'." Clarence was replaced in 1902 and died in 1903 only 6 years after his father. My guess is that running a pub appealed to him (and it was live in, like the zoo), but he probably wasn't good at that either and so when his father died he took over the job of running the zoo until either the Zoological Society got rid of him or he may have been ill by then. His brother Edward sounded a much more likeable chap, he was curator of Maidstone Museum and one in Borneo and wrote many book on birds and Abraham's biography."
Jimmy McCormick. Landlord of the Chequers Cromer Hyde 1962 to 1968.
Jimmy McCormick bought the Chequers Pub (Crooked Chimney) in 1962 from Percy Smith. He was landlord for 6 years, until his untimely death on January 3rd 1968 in a car crash in Spain. After his death his wife became Landlady and ran it until 1987.Jimmy McCormick was born on September 26th 1912 in Rotherham. He was a professional footballer and started his career with Rotherham. He then went to Chesterfield for a year and in 1933 signed for Tottenham Hotspur Football club.He played 137 games for Tottenham and scored 26 goals. He stopped playing for Tottenham in 1939 due to the war and was transferred to Fulham in 1946. His other clubs included Lincoln City, Crystal Palace and Sliema wanderers ( A Maltese football team). He ended his Football career as manager of York City until he retired in 1954. His wife Dorothy retired in 1987. She bought 2 cottages in Cromer Hyde (Hyde Cottage) converted it to one house, but never lived there. Interviews with local people who drank in the Chequers (Crooked Chimney, changed by Dorothy McCormick) during Jimmy McCormick's time recall a room full of Tottenham Hotspur memorabilia.
Complete list of landlords and landladies
1839 to1841 James Clarke at Chequer (Hornbeam Hall)
1841 Census James Harraby ((Census shows Vituatory)
1851 to 1859 John Burgess
1859 to 1870 Thomas Woodward
1870 to 1874 Jonathon Parsons
1874 to 1878 Hy Hobson
1878 to 1886 Thomas Palmer
1891 Census Clarence Bartlett
1895 Thomas Dixon Miles
1898 George Richards
1901 Census James Strater
1902 Fredrick Dickinson
1906 to 1910 Alfred James Gearing
1910 to 1914 John William Aincham
1914 to 1917 Joseph Totman
1917 to 1925 Elise William Jenkinson
1926 Christopher Padley
1927 Christopher Padley
1928 to 1952 Ernest Chas Brown
1953 to 1955 Harry & Dorothy Tuite
1956 to 1962 Lew & Alice Smith
1963 to 1967 James & Dorothy McCormick
1968 to 1987 Dorothy McCormick
1988 to 1990 Michael & Rebecca Wade
1991 Peter R Lloyd
1992 Julian Piggot
1993 Peter R Lloyd
1994 to 1995 Martin Barnicle
1996 Kathryn Goswell
1997 Barry St Anton
1999 to 2000 Diane Ackroyd
2001 No record
2002 No record
2003 No record
2004 Paul Slater & Emma Verrall
2005 No record
2006 Paul & Julia Edwards
2007 Andy Timins & Alan Archer
2008 Michael Langdon & Danielle Lumney


The pub featured in one of the episodes of inspector Morse called 'Who killed Harry Field' which also featured Brocket Hall. The Vintage Inns (Mitchells & Butlers Leisure Retail Limited) took over the pub and run it as a highly successful pub and restaurant to the present day. Click Here
The

Crooked Chimney

in Welwyn Garden is a country pub & restaurant oozing rural charm and rustic character. Our picturesque surroundings provide the perfect backdrop for savouring the hearty, seasonal pub-food on our menu, and the carefully nurtured cask ales and fine wines gracing
When the Great North Road went through Lemsford it is said as many as 150 coaches a day. Carriages and wagons would pass through the village daily.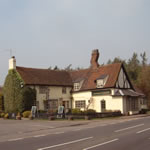 All the inns would have offered food and drink for the travellers. Accommodation would be provided if required. Wheelwrights and blacksmiths were available to service the wagons and horses. Stabling for the horses would also have been provided.Read More about the Golden Age Of Lemsford - Click Here